It
's that time of year again; the time where college basketball dominates the sports cycle
.
During this time, many young talented players make life-changing decisions regarding their respective futures; whether to stay in college for at least another year or to declare for the annual NBA Draft.
Yesterday, Duke freshman forward Harry Giles made his decision when he officially declared for the 2017 NBA draft.
Some people will applaud him for making this decision. I am not one of those people. I
'll get into why I feel the way I do in a little bit, but first let me give a brief summary of Giles' back story.
As a highly touted freshman at Wesleyan Christian Academy,
Giles' play was impressive and he turned heads natuonwide. He averaged 12.9 points per game playing on the varsity team. Prior to his sophomore year, he tore his left ACL and unfortunately missed the entire season. He bounced back in a big way as a junior with a spectacular campaign, averaging 23.9 points per game and 12.5 rebounds per contest. Going into his senior year, he decided to follow the path of many NBA players before him such as Carmelo Anthony, Kevin Durant and Rajon Rondo, by attending Oak Hill Academy. Once again his season was cut short by tearing his right ACL during the team's first scrimmage.
Despite these tremendous setbacks, he was still named the #1 rated high school player in the nation for the 2015-2016 school year. He received scholarship offers from Duke, the University of North Carolina at Chapel Hill, the University of Kentucky, Wake Forest, and the University of Kansas. We're talking 'blue bloods' of college basketball. None of these schools pulled their offers after his SECOND serious injury while still in high school. That's how good a player he was was at the time.
Many called him the next coming of Kevin Garnett, which is a major compliment itself, considering 'KG' will be a first
ballot Hall of Famer when he becomes eligible for consideration in 2021.
Giles accepted a scholarship offer from Duke. Once he arrived on campus, things took a downward turn. After missing the first
8 games of the season while still recovering from his second ACL surgery, he finally took the court to play. By most accounts he didn't live up to the lofty expectations set upon him. He averaged 3.9 points, 3.8 rebounds while playing 11.5 minutes per game. These are hardly numbers one would expect from a phenom like Giles. Most players whose stat line looked like this would WANT to stay in college to improve their averages and subsequently their draft stock.
Some people may ask "Who are you to tell someone when they're ready to leave college? Are you an NBA scout?" I'll be the first to tell you I'm certainly not one. However I do watch a good bit of basketball.
Giles
hasn't given himself enough time to develop a back-to the basket game or to hone his defensive skills. These are essential attributes to be a productive 'big' in the NBA.
He could also put on a bit more muscle and add a few more lbs to his fragile, injury prone frame to be able to play 82+ games per season.
Quite simply, Giles just doesn't pass the eyeball test to me at this point. I'm not saying he won't ever be good a good player in the league but based on what I've seen up to this point, a team will be drafting him on pure potential and not actual production. Correct me if I'm wrong, but by most experts' standards production is the main quality that gets players to the NBA, especially freshman who decide to leave after only one year.
Additionally, he
is the 14th best prospect in June's draft according to ESPN's Chad Ford and is currently slated to be a mid-1st round pick in what is an already weak draft class. That should scream to a player of his caliber to remain in school.
Some
may point to the likes of Kevin Durant, Anthony Davis, and Kevin Love and how easily they transitioned from one year of college to being bonafied NBA stars. You could even point out fellow former Duke players such as Kyrie Irving, Jabari Parker & Brandon Ingram as 'one & done' phenoms that have come into the NBA and have had success. For all those guys, I would point to Anthony Bennett, Greg Oden, Jerryd Bayless, or even Michael Beasley, who (at best) has had a up & down career.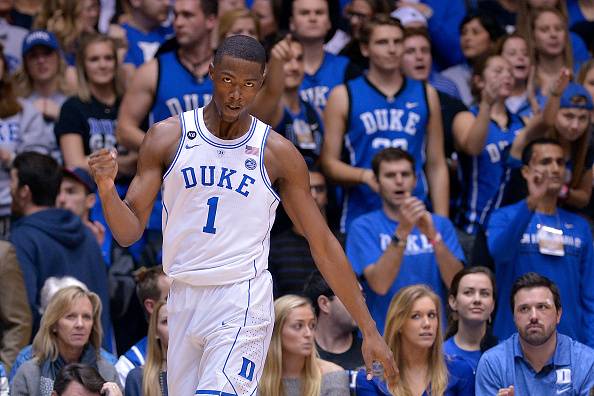 photo image by Grant Halverson/Getty Images
Others
may also point out the fact that the longer these players stay in college, the longer the NCAA get to profit off their hard work & name for almost nothing in return (besides a scholarship). I wholeheartedly agree with this point. There aren't too many things in the world that upset me more than the current way college sports are set up (coaches, athletic directors, schools and the NCAA making millions of dollars while the players don't get paid at all). But that's another story for another day. Besides, that's not the point I'm trying to get at now. I'm talking strictly on-court performance.
As a lifelong Duke men
's basketball fan, there's nothing I love to see more than a player from the team I cheer for so unapologetically decide to take his talents to the next level. It demonstrates the ability of the program to prepare players to compete at the highest level of basketball while making a very generous salary. It also makes the program more desirable to potential future recruits.
Selfishly, I must admit that a tiny part of me wants Giles to stay so that Duke can recruit another highly-rated class to add to his talent and dominate college basketball for at least the next 2-3 years.
As a matter of fact, I wouldn't mind freshman from all over the country staying in school longer. College basketball as whole would be better overall product to watch again (a la the 80s, 90s, and early 00s). Additionally, players would also have MORE time to improve their games, and thus would be better prepared for the NBA, and the 'Association' would be a better product as well (not that is isn't already awesome).
In closing, I don't want to be the person that discourages anyone from pursuing their dreams. If you believe in something, go for it. But at the same time, you also have to know when it's your time to make certain leaps.
For Giles, I simply don't believe now is the time. The NBA has been around for 70 years. The league and all the money that comes with it isn't going anywhere 'younin'. You can afford to wait at least another year (or two).
Here's hoping that Giles gets drafted, is properly developed with the right coaching, stays healthy and has a long, successful NBA career filled with championships and all-star game appearances. I'm rooting for you.